About Our RV Park and Rates
El Governor RV Park is located directly across from the beach with its sugar-white sands and spectacular beach sunsets overlooking the Gulf of Mexico and Cape San Blas. Our park offers the following conveniences:
66 RV Sites
All sites offer 30, 50 and 110 amp service
All sites offer full hook ups, Cable TV and WIFI
Coin Laundry and Bath House
Picnic Areas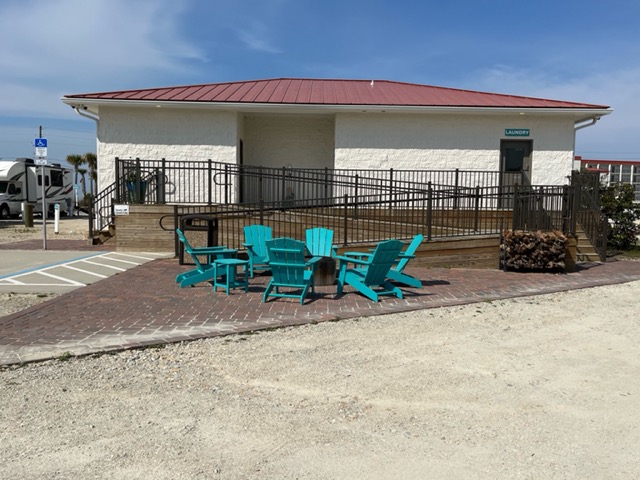 Daily Rate
$85 plus tax
Holiday fee $25: New Year's, Memorial Day, July 4th, Labor Day
Weekly Rate
$510 plus tax
7th night free
Monthly Rate
$900 plus tax
Available Oct 1 through Feb 28.
6-month limit.
Sites are based on 4 persons. $2 extra per person per day over the age of 6.
Payment: Payments for weekly or daily reservations will be done one week prior to your arrival. Payment for monthly reservations will be done one month ahead of your arrival.
Cancellation: Cancellations for monthly reservations must be received 30 days prior to your arrival date. Cancellations for nightly or weekly reservations must be made one week prior to your arrival date.
Refunds: Once your card is charged there are absolutely no refunds for any reason.
Check-In: After 1:00 PM CST. Check-Out: Before 11:00 AM CST (late check-outs will result in additional fees).
Park Rules
Pets: Responsible pet owners are welcome (must show proof of vaccinations). Pets are not allowed on the beach. No exceptions. This is not our rule but the City of Mexico Beach's (see § 90.13 ANIMALS ON BEACH code here). Pets are allowed on the Gulf County Beaches. When exiting the park go left and look out for the sign on the right welcoming you to Gulf County. You are required to keep your pet leashed while on Gulf County beaches. Please call the Gulf County TDC for more information. (850-229-7800).
Only three pets per site. There is a pet fee of $2.00 per day per pet regardless of the length of your stay. Please clean up after your pets. Pet stations are located in three different grassy areas that are great areas to walk your pets. Bags are provided at these stations so please bag it, tie it up, and discard in the can provided. Failure to clean up after your pets could result in eviction from the park. Be advised that we have cameras in the park. Pets are not allowed to run free in the park. They must be on a handheld leash and kept close to their owners. Pets are not allowed on other RV sites. Pets are not allowed to be tied or chained outside your RV and left unattended. Playpens no taller than 20" are ok.
Mean or aggressive pets are not allowed. Excessive barking or any behavior that disturbs other guests could result in requiring your removal of the pet from the park. If arrangements cannot be made to address the problem and you have to leave the park there will be no refunds for early departure. Failure to adhere to rules governing pets could result in eviction from our park with no refund.
You must have a sewer line cap and a sewer line hose support.
Speed Limit in the park is 5 MPH. Please enter and exit the park in a quiet fashion. Motorcycle enthusiasts please enter and exit the park quietly.
We, at the El Governor Resort Properties, pride ourselves in being a family destination. We want everyone to be comfortable and have a memorable experience with us. Any behavior that compromises our reputation will result in your immediate removal. Our properties are equipped with security cameras. Cursing, overindulgence, nudity, or just plain rudeness will not be tolerated.
El Governor's quiet time is from 10:00 PM CST until 8:00 AM CST. Quiet time will be enforced. Your children are your responsibility. Please know where they are. Children under 12 must be accompanied by an adult at all times and in all buildings.
The lagoon does have alligators in it. Pet owners please beware of walking pets on the lagoon bank. Do not feed the alligators!
Please report any problems with your site or with anything inside the park. Guests are not allowed to make repairs.
Each site is allowed one vehicle. Extra vehicles, watercrafts, and trailers must be parked in the overflow parking lot. You must have a pass for each extra vehicle. Please see the office to obtain a pass. An Extra Vehicle pass is $25.00 per vehicle per stay. The space at the end of your RV is for parking only. This area is not for tents or canopies. Outside refrigerators or freezers are prohibited. Please keep your RV site clean and free and put litter in its proper place.
Please tie up all bagged trash and place in the dumpster. Please be a responsible smoker and put your cigarette butts in their proper place. Littering will not be tolerated. Smoking is not allowed in any of the park buildings.
Washing vehicles, boats or RV's is not allowed.
Fishing in the lagoon is prohibited. Fish cleaning is prohibited in the park.
Fireworks are prohibited in the park and on the beach.
Firearms are prohibited in our park. (BB guns, pellet guns, dart guns, slingshots, bow and arrows). Causing harm to any wildlife in the park will result in your immediate removal.
Possession of illegal drugs will result in immediate eviction.
Portable porches from RV supply are the only acceptable platforms allowed at the entrance of RV's. Fencing is not allowed. El Governor RV Park, its owner, and management absolve it and themselves from all liability and responsibility concerning damage to you or any member of your party. We absolve ourselves from all liability and responsibility from loss from theft, property damage, acts of God, or any other cause whatsoever. Guests agree to hold El Governor RV Park clear from all such liability.